Taste of Thaiyai
Kale G: There are certain cuisines that you find yourself craving - certain cuisines that, if uneaten long enough, become the itch you must scratch. For us, it's Thai food.
Phil B: (scratch, scratch) Along with the dreaded ?dry winter skin?. Anyway, eating Thai food is a great coping mechanism for the subzero temperatures we have this time of year.
KG: Thai is one of those incredible cuisines that spark across the tongue, combining all the extremes of sweet, sour, and savory while shading in nuances in between. If food were music, then Thai is a symphony orchestra.
PB: Great analogy -- think Wagner?s ?Ride of the Valkyries? instead of [insert name of boring song]. The flavors of Thai can be very exhilarating, yet subtle at the same time.
KG: This week, Phil felt the urge and we were powerless to resist. He?d heard of a little place in Apple Valley, and off we went to find this hole in the wall called ?Taste of Thaiyai?.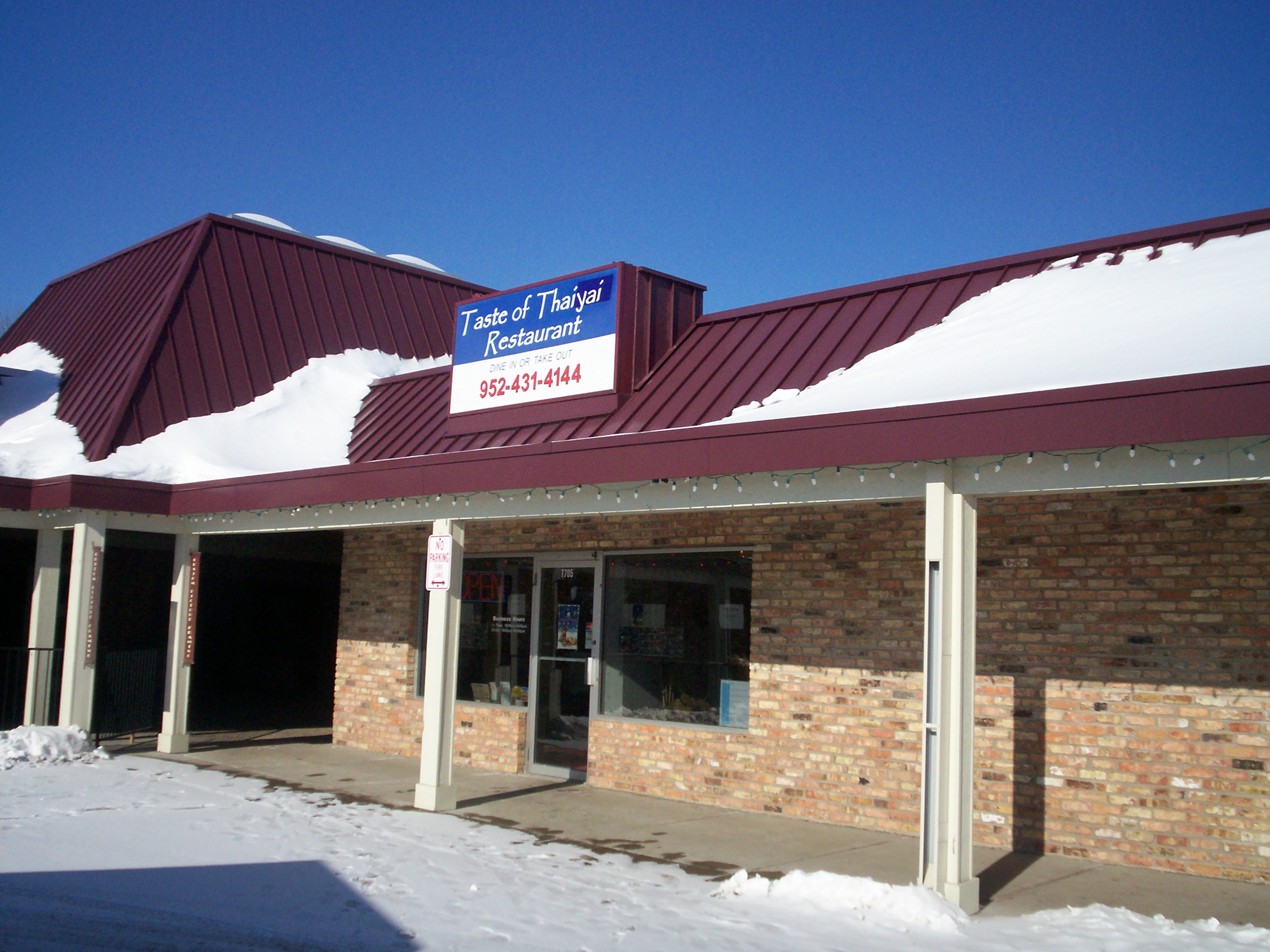 PB: Resistance is useless! (sorry, Douglas) This place was recommended to me over 5 years ago by a coworker who was also afflicted with Thai Urges. However, it was closed when we stopped by, and I promptly forgot about it until a few weeks ago.
KG: And hole in the wall was right. We knew what we were looking for and we almost missed it. It?s a tiny place, but don?t let that fool you. Good spices can fill up a joint, and Thaiyai did not disappoint. We were seated immediately by the chef, having arrived shortly after they had opened. He asked if we wanted anything, and the Special Spring Rolls came up.
After all, it was Phil?s week to pay.
PB: Hey, what?s up with that? Spring Rolls did sound really good, though. As usual, my stomach twisted my arm until I cried ?uncle? and agreed to buy appetizers. Kale cheered for my stomach during the match.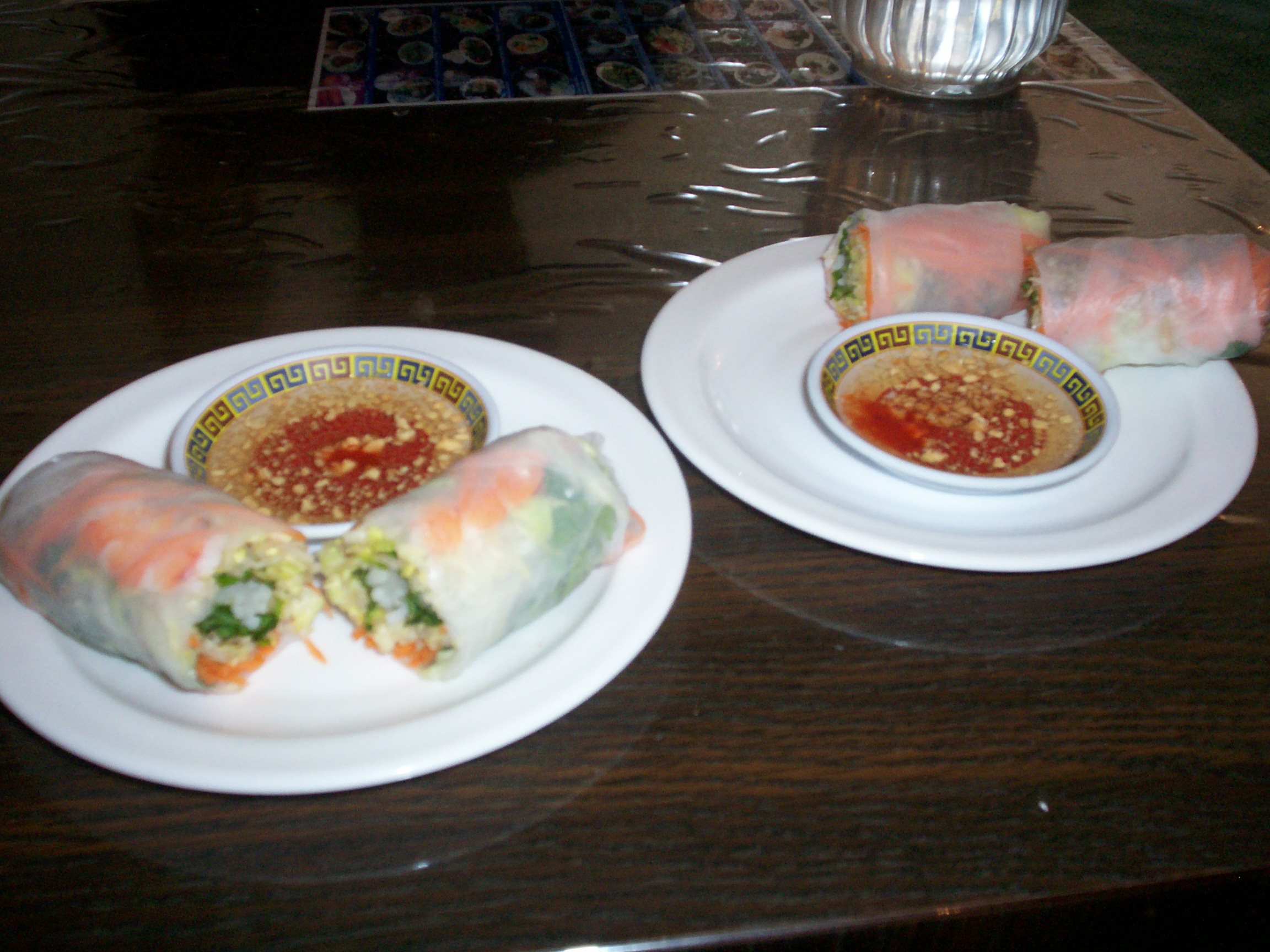 KG: The thing that differentiates the Special Spring Rolls from the everyday is mint. Three kinds, as a matter of fact. I?ve always like mint in my Spring Rolls, it just gives them a wonderful finish, and these started wonderful too. They came with the standard fish/peanut dipping sauce, which was so thick it was practically a syrup. If I have any complaint about these Spring Rolls, it?s that they skimped on the crushed peanuts in the sauce, but hey, it?s a minor quibble.
PB: I had never tried mint before in Spring Rolls, but I must say, it added a very tasty layer to the flavors. While we ate the Spring Rolls, Kale mentioned that mint is one of the world?s most versatile herbs. It is equally at home in sweet desserts or savory dishes, and is an excellent addition to tea or a cool, refreshing adult beverage (e.g. mojito). Guess it?s really not surprising that mint has found its way into virtually every type of cuisine.
Kale is correct on another point ? the dipping sauce coulda used a few more peanuts.
KG: After quickly devouring the appetizer we thought we?d be in for a wait, but here A Taste of Thaiyai surprised us again. Our order was turned around in mere minutes (I guess it helps we were the only ones in the location at the time) and tasty, tasty foods were laid before us. Phil got the Pad Bai Kra Prao, a mix of onions, peppers and basil, which he had them add beef to and then set to ?nuclear?. Myself, I ordered the Laab Nua, which is ground beef mixed with lime, rice powder, cilantro, green onions, mint and chilies, served on lettuce leaves with sticky rice on the side, one of my favorite Thai dishes.
PB: Thai fast food ? gotta love it. One of my favorite Thai dishes is Pad Bai Kra Prao, which roughly means ?stir-fry with holy basil ?. The basic recipe calls for stir-frying meat (usually chicken) with lots of Thai chiles and garlic, then adding fish sauce, sugar, and a big handful of holy basil at the last stage right before serving. Now, holy basil has a unique peppery flavor that you cannot reproduce with sweet basil (the kind used in Italian cooking), so don?t expect good results with a substitution.
As for Laab Nua, I have never tried it. Was definitely looking forward to a sample of Kale?s dish.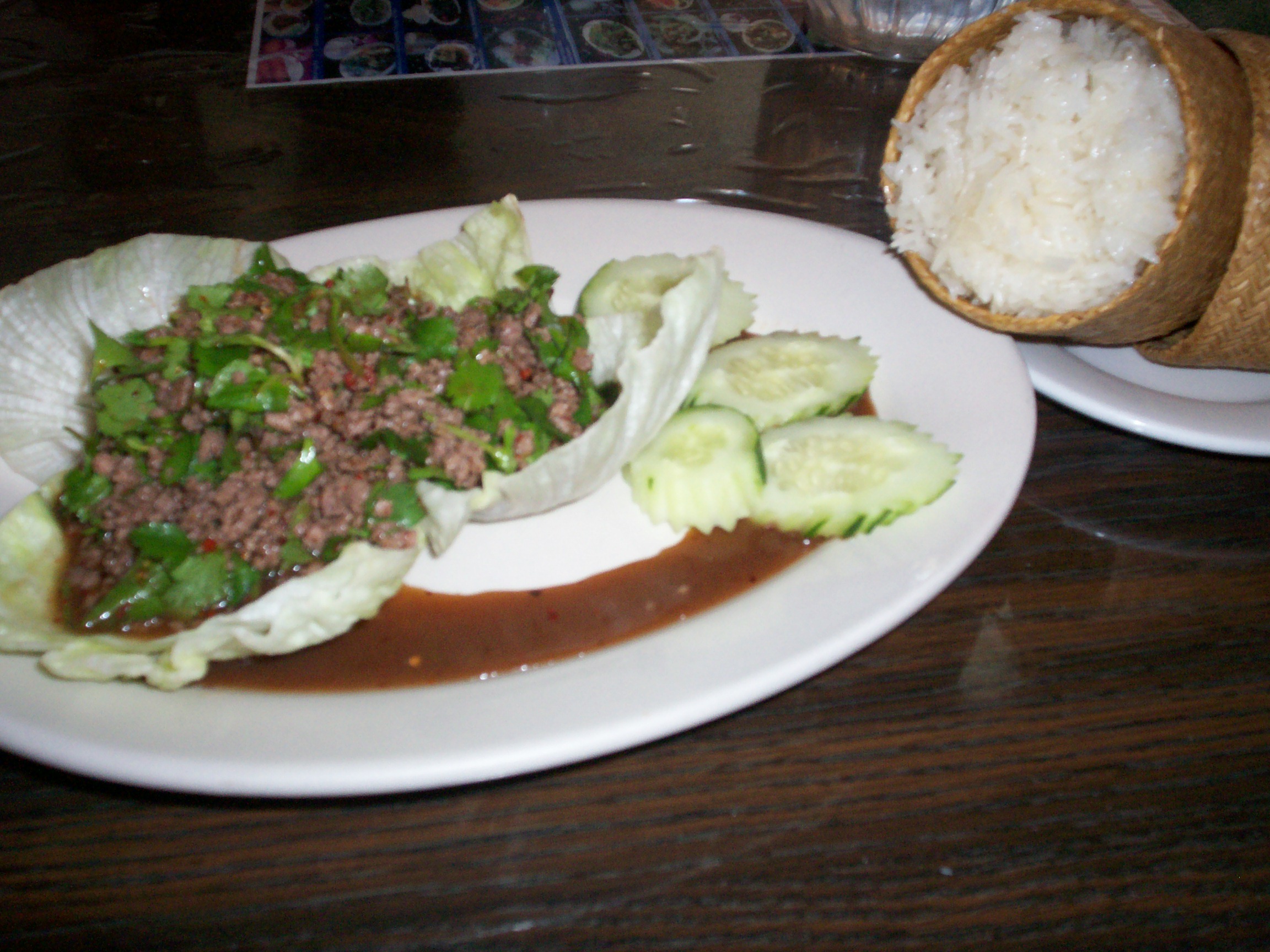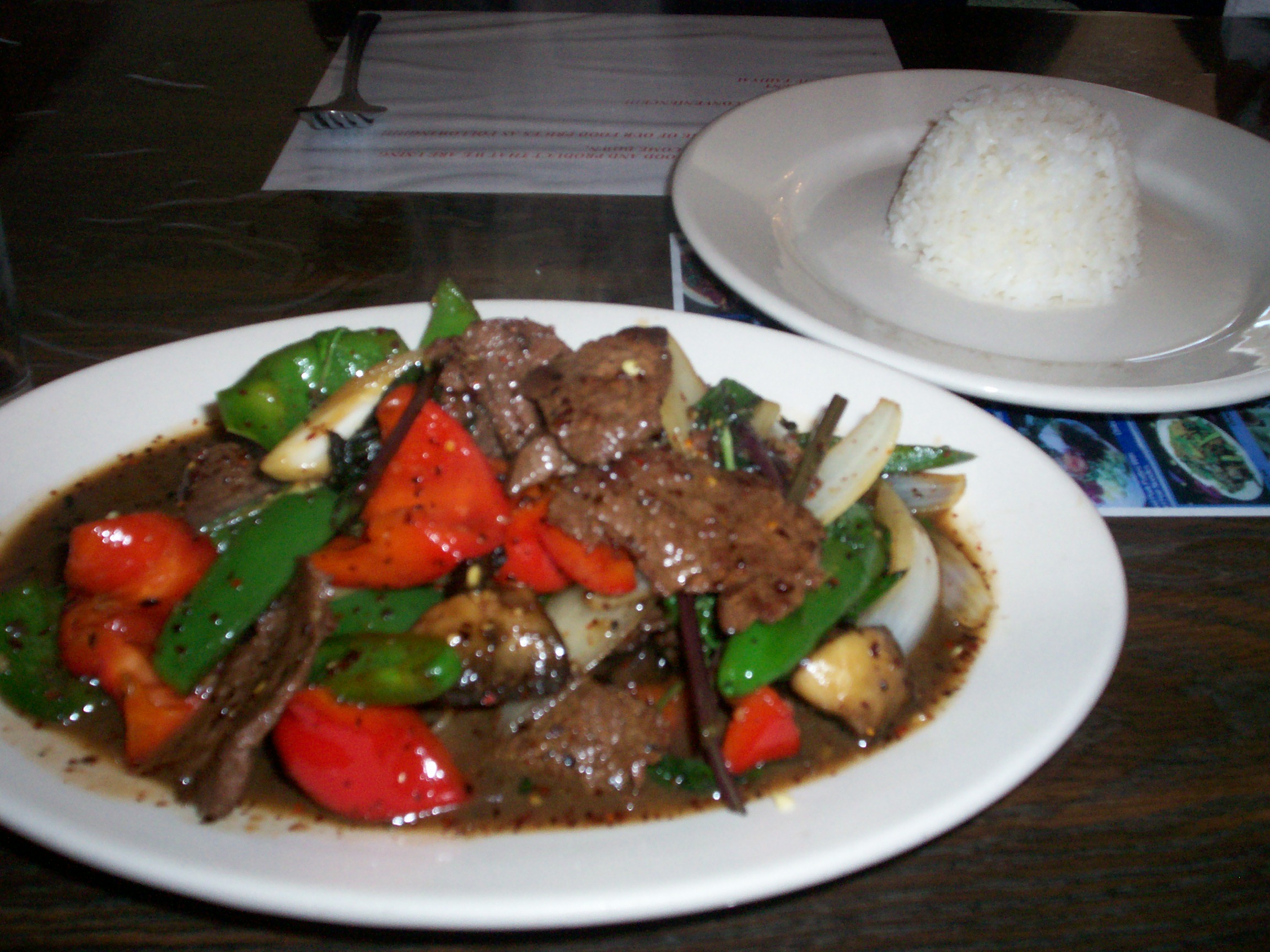 KG: I?m telling you now: A Taste of Thaiyai has perhaps the best Laab Nua on the planet. I have never had one so flavorful and delicious as this, and I have had some good Laab Nua. The mixed ingredients were juicy, dripping with lime and filling the mouth with texture, flavor and goodness. I had been a little worried when it came ? although presented beautifully, I had never seen Laab served with the meat portioned out into the lettuce already ? always before the lettuce had been on the side, you?d add some rice and Laab to the leaf and eat. Here it?s? well, see it above. The leaves are a little weaker and harder to eat with this way, but that?s okay. In other Laabs the lime is more of a supporting player, but here it?s front and center, and everything else plays across it and that is fine by me. The soup that comes with it is really good, packed with all sorts of interesting veggies and meat...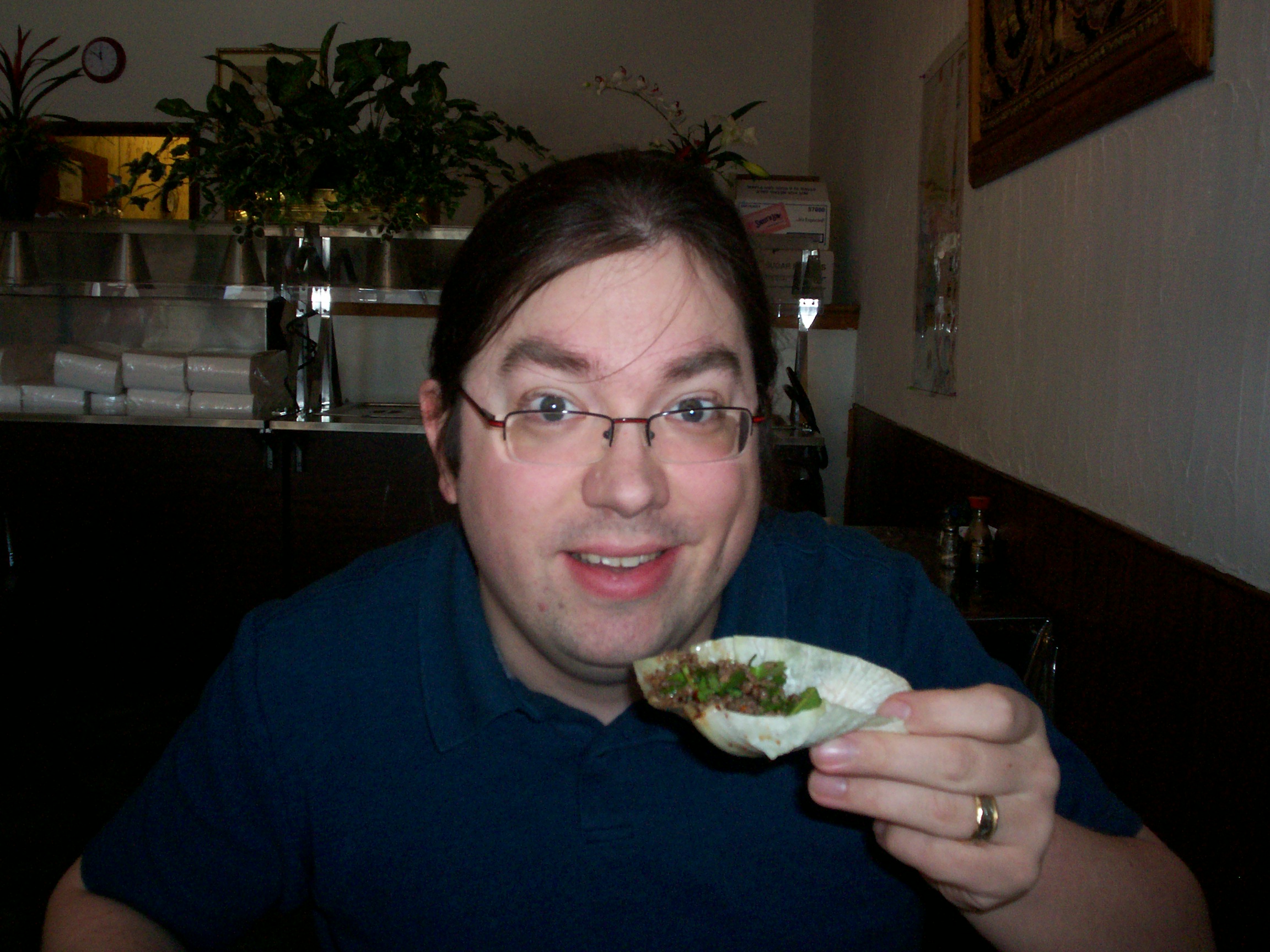 PB: Kale let me sample a few bites of his Laab Nua. Yum! You can guess what I will be ordering next time I come here.
KG: It was devastatingly good, and like all good Laabs that means the spice crept up on me. Remember ? spicy means flavorful first, nuclear second. And speaking of nuclear?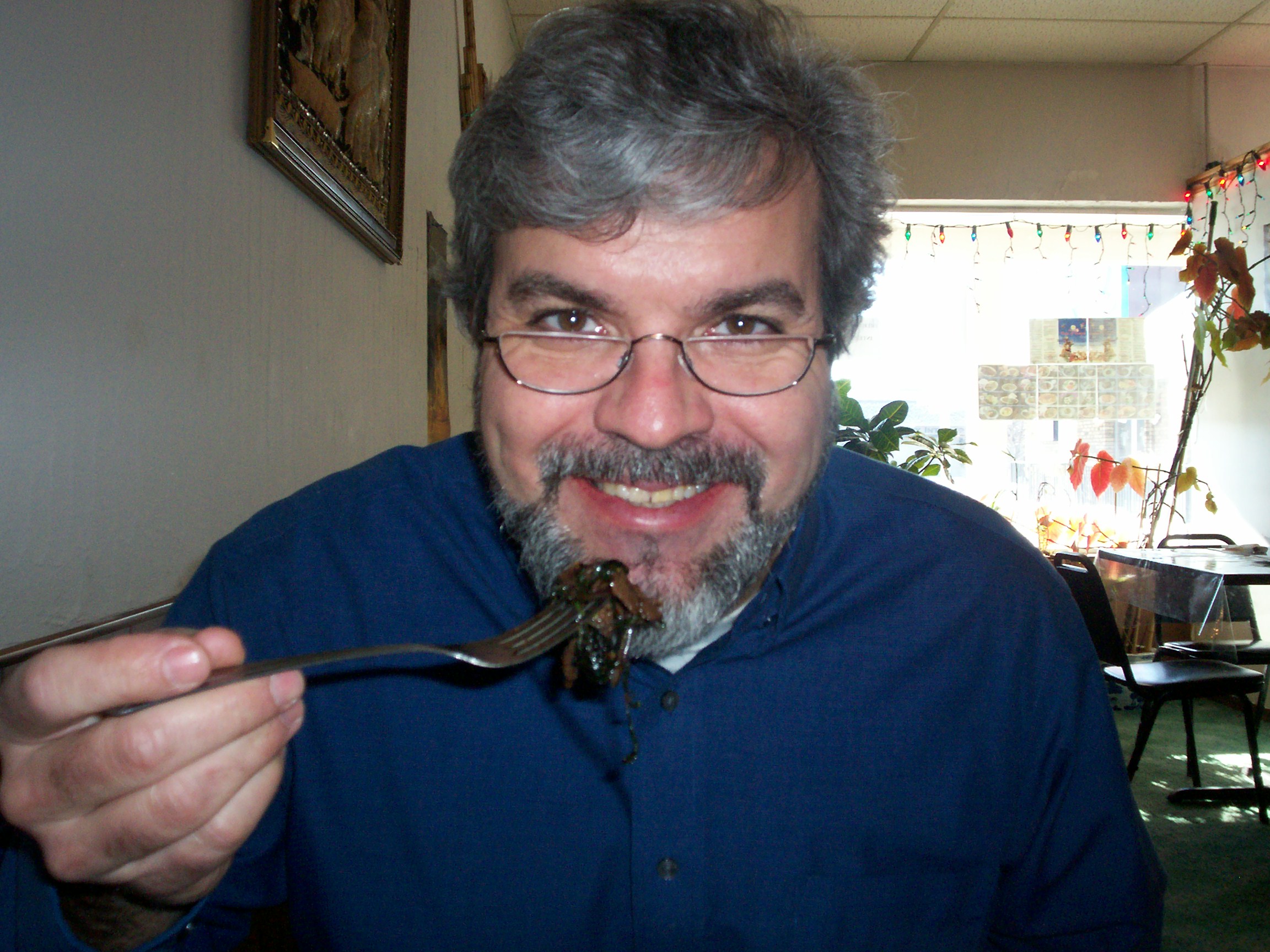 PB: Holy Basil, Batman! This is hot! Even though the Pad Bai Kra Pao was very spicy, I could tell that the dish was somewhat modified for the Minnesota palate. The bell pepper and onions were a nice variation, and the chef used jalapeno peppers instead of the Thai chiles called for in the basic recipe (which I didn?t mind at all). The Thai bird?s eye chile is one of the hottest peppers on the planet, perhaps surpassed only by the habanero. I once bought a few dozen Thai chiles at a Farmers Market, chopped up about 6 of them and threw them in a stir-fry I made at home for the family. Can?t really say it was very good, since the fiery heat from the chiles completely overpowered the flavor of everything else. The choking fits and tears were fun to watch, though.
KG: Mmm! I snuck a piece of the beef and this was scrumptious! The spices are strong, and I could see this getting really hot, really quick, but my god, the flavor would be worth sacrificing the taste buds for. Phil and I tried to work out what was in the brown sauce, but it was hard to understand Phil as he was licking the plate?
PB: Well, allow me to interpret what I was saying besides ?grrmmmph, mmmm, slurp?: I think the chef may have blended some minced ginger, oyster sauce, & soy sauce with the fish sauce. Whatever he did, it tasted great.
KG: A Taste of Thaiyai is exactly what the doctor ordered. We?ve been pleasantly lucky ? most everywhere we?ve gone we?ve enjoyed, but this is a cut above. Phil, in a word?
PB: AWESOME!
I give this place 4 tines way up.
KG: Exactly. Four tines, chopsticks, or whatever you want ? just go! It?s that good.
Taste of Thaiyai
7705 147th St W
Apple Valley, MN 55124
3 comments
Cool! A good Thai place not too far from home :)
02/20/09 @ 14:02
We aim to please. ;) Any other cuisines we should find in that area for you?
02/23/09 @ 13:23
Beware! We were disappointed that most of their food contained MSG. Wound up not eating there.
09/10/12 @ 21:53
Comment feed for this post