Obento-Ya
Kale G: We had hoped to have for you this week: Dining With Plastic Forks, a Very Special Episode. Alas, and alack, it was not to be. While our erstwhile companion, Kristin C., was in town, she was unable to join us as we made our way to the site of our next review: Obento-ya.
Spoiler alert! It sucks to be her.
Phil B: Yes it does. Better luck next time, I guess.
KG: Obento-ya is a Japanese bento diner. For those unfamiliar with bento, it?s basically a Japanese box lunch. To further elaborate: Japanese Box Lunch is to American Box Lunch what Ferrari is to Yugo.
PB: Or Apples to Oranges. Oh, sorry ? I already used that comparison in another review. Kale is correct on his analogy, though. The Great American Box Lunch usually consists of leftovers in disposable plastic containers, not to mention the ?box? is likely to be a plastic Walmart bag. Contrast this with the Japanese, who often put in a lot of time and energy into preparing their lunches. The bento ?box? is usually nicely decorated lacqerware with a compartmented insert to hold the food. They even hold competitions (Kyaraben) where the food is decorated to look like people, animals, plants, or cartoon characters. Not to mention that it is also delicious!
KG: Phil?s wife was able to join in our journey this week, so while we may not be able to present our DWPF Very Special Episode IV (?A New Lunch?), we were at least able to bring a extra voice to the table.
PB: It also scored me a few points on the home front; she actually got to participate instead of just hearing about the great lunch we had without her. Another positive was that we were able to sample three different menu items instead of two.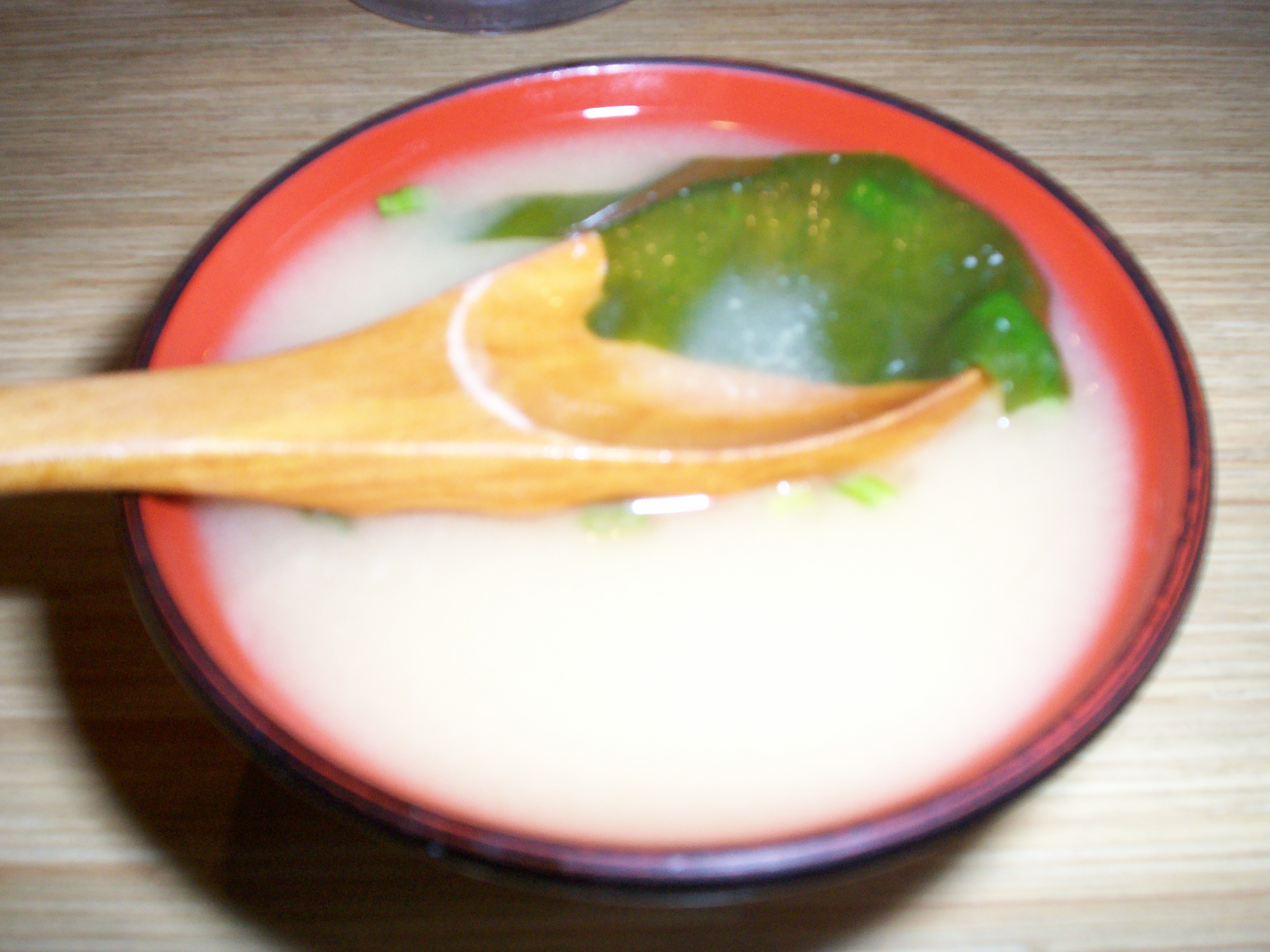 KG: We began with miso soup, which is served before the bento. Miso soup is usually made from fermented soy (although sometimes rice or barley is used instead), then seasoned with seaweed, tofu and various herbs. The miso soup at Obento-ya is a perfect color and flavor; rich, without being overbearing, hearty, without cloying to the palate. If I had one complaint about the miso, it?s that mine had one piece of seaweed and one piece of tofu, but the broth was so good this is at best a minor complaint.
PB: I will defer to Kale?s judgement on this one. I have liked miso soup every time I have tried it, but I don?t really know what distinguishes good miso from great miso. The flavor is hard for me to describe, but a nice warm bowl of miso is a great way to start lunch.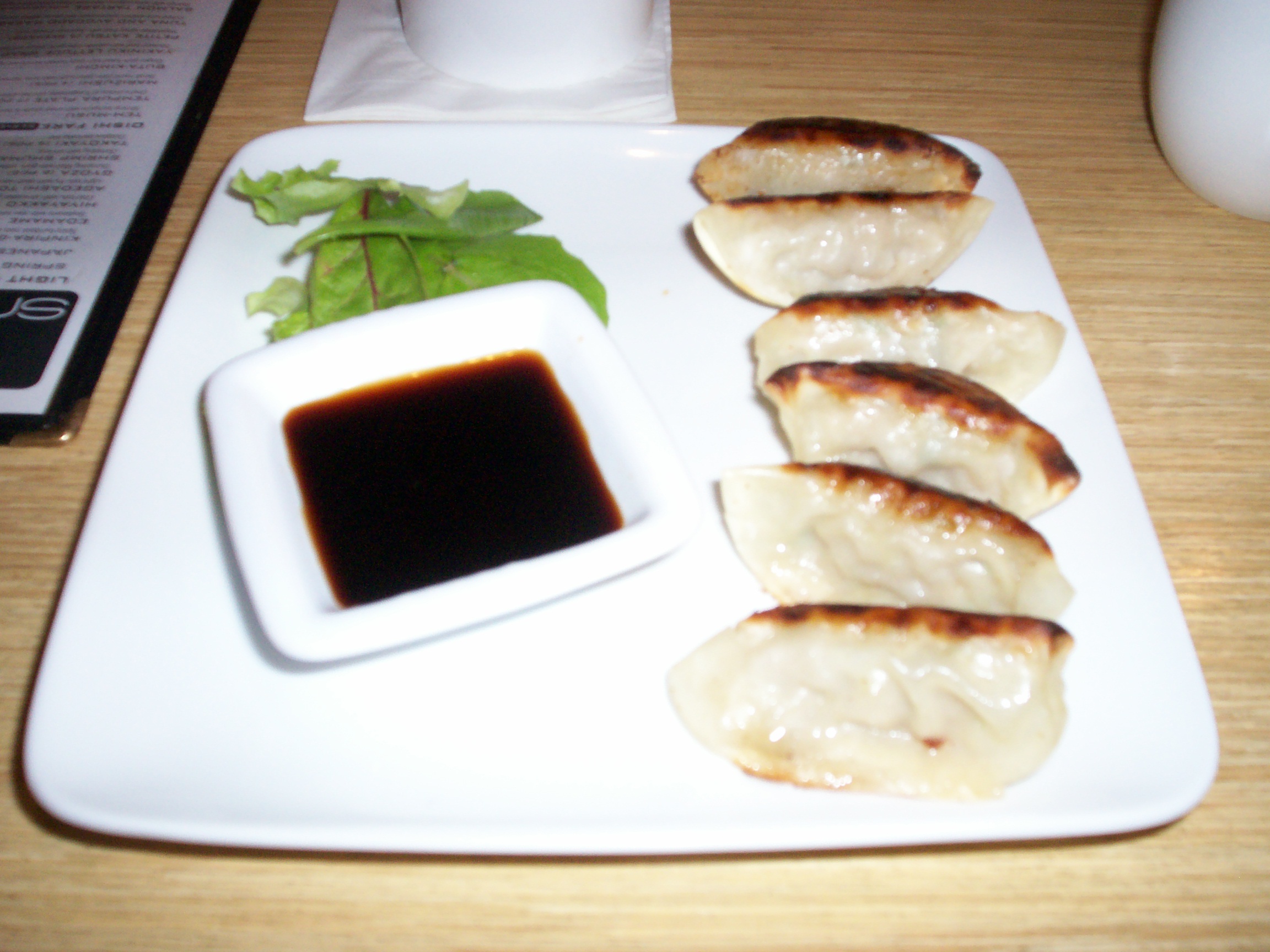 KG: Then we had an order of their gyoza, a fried dumpling with pork, shitake mushrooms and deliciousness inside. It came with a soy-vinegar dipping sauce that sparked across taste buds the way the best vinegars do, complimenting the salty filling quite nicely. The plate was quickly demolished, and then we began to wait for the main course?
PB: The gyoza reminded me of chinese potstickers, but better. They certainly didn?t last very long. The Asians have a real knack for balancing flavors (e.g. sweet, sour, salty, spicy, savory, etc.) in their sauces, which makes all the difference in a dish like this. Mmm, mmm, good. Made us almost giddy with anticipation as the waiter brought the rest of our food.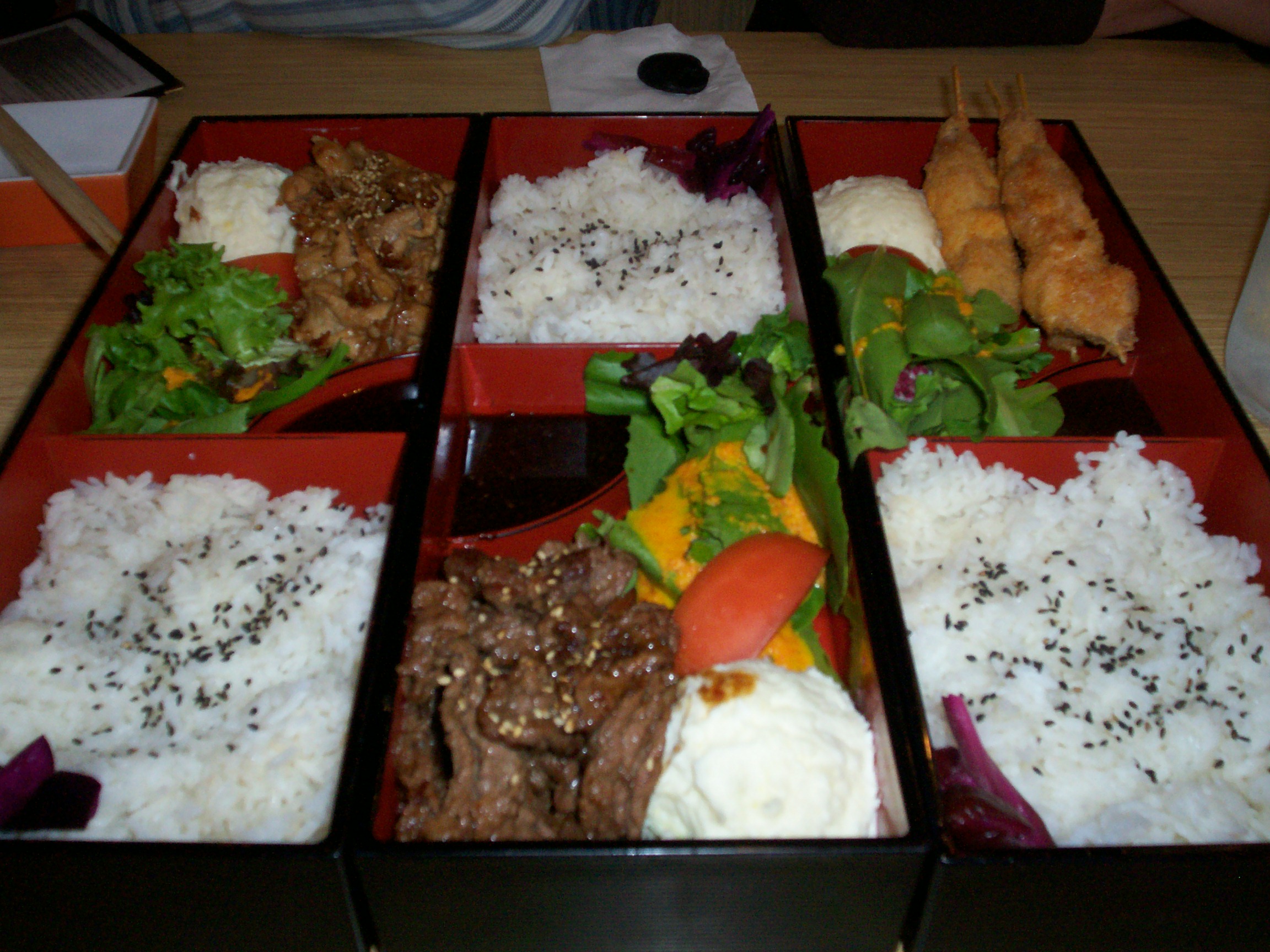 KG: It was huge. I had the Yakiniku, thinly sliced beef marinated in a miso-garlic sauce, Phil had the Shoga-Yaki, which is pork in a shoga-ginger sauce, which, upon reflection, seems redundant as shoga literally is pickled ginger. Patty had the pork Kushi-Katsu, which had skewers of pork lightly breaded and fried. All of the bento had a Japanese potato salad, a light green salad with a gingery dressing, and steamed rice with a few pieces of pickled eggplant in the corner. Keep in mind these platters, with the miso, were about eight bucks a piece; an absolute steal for the price.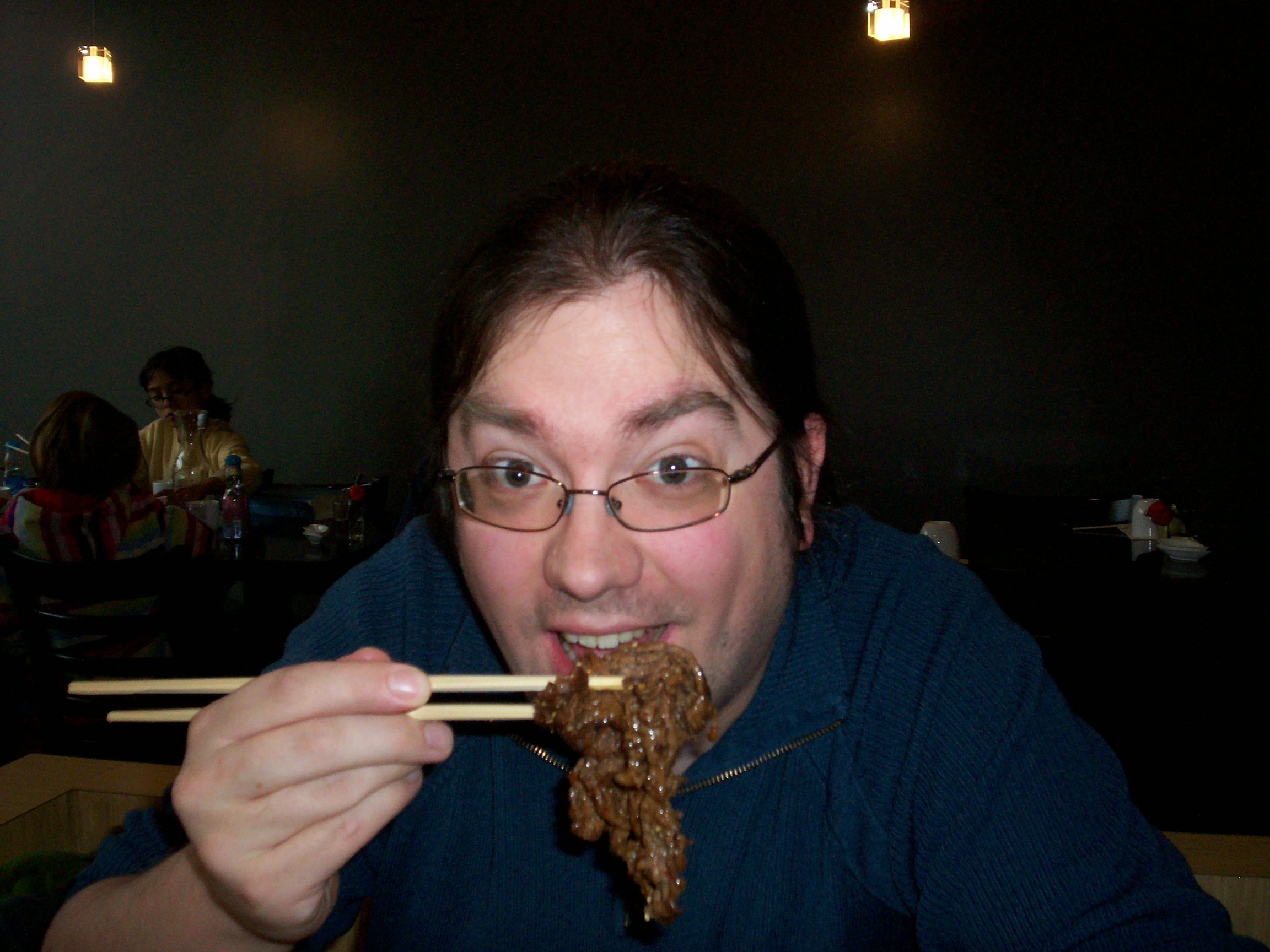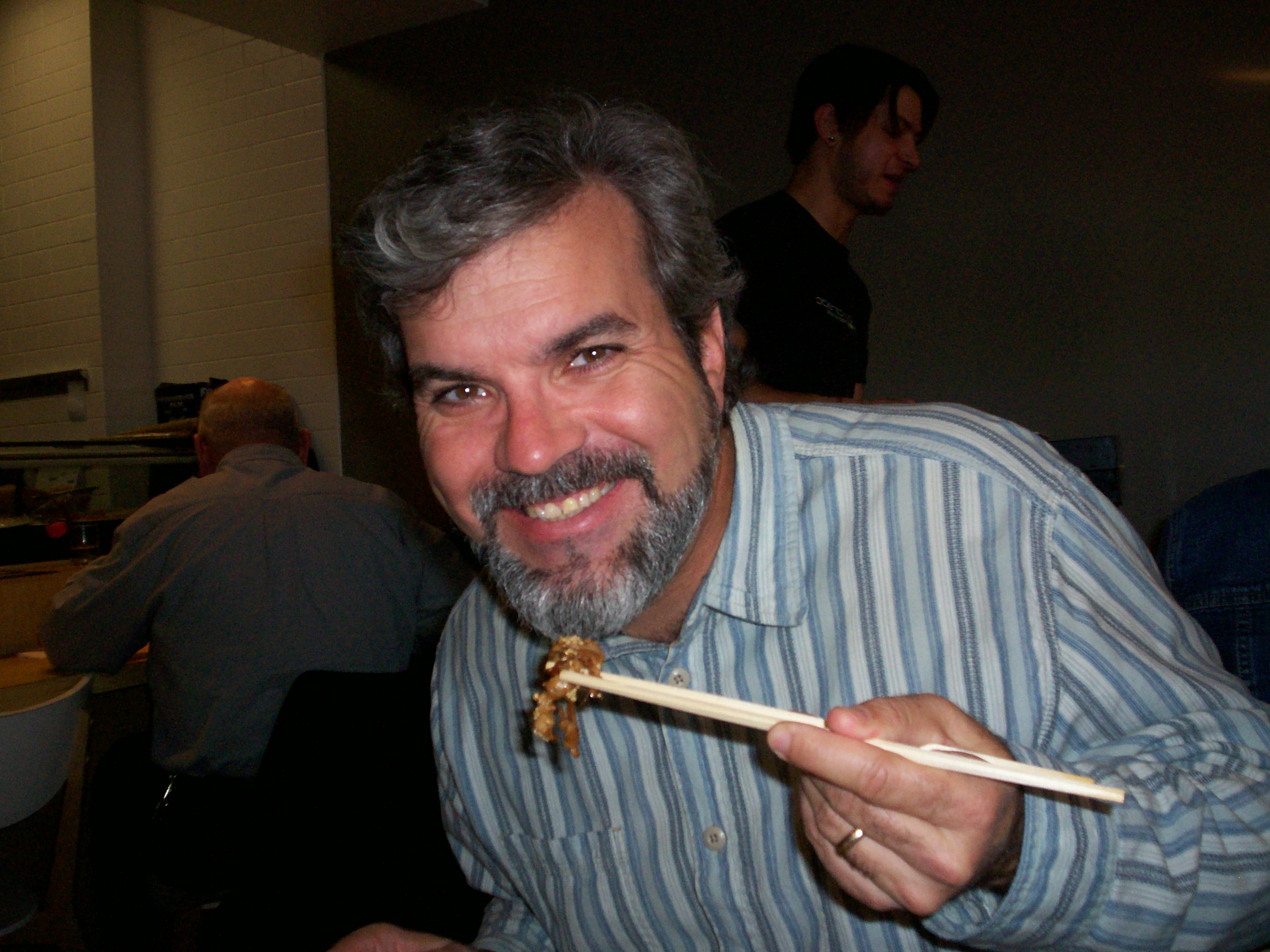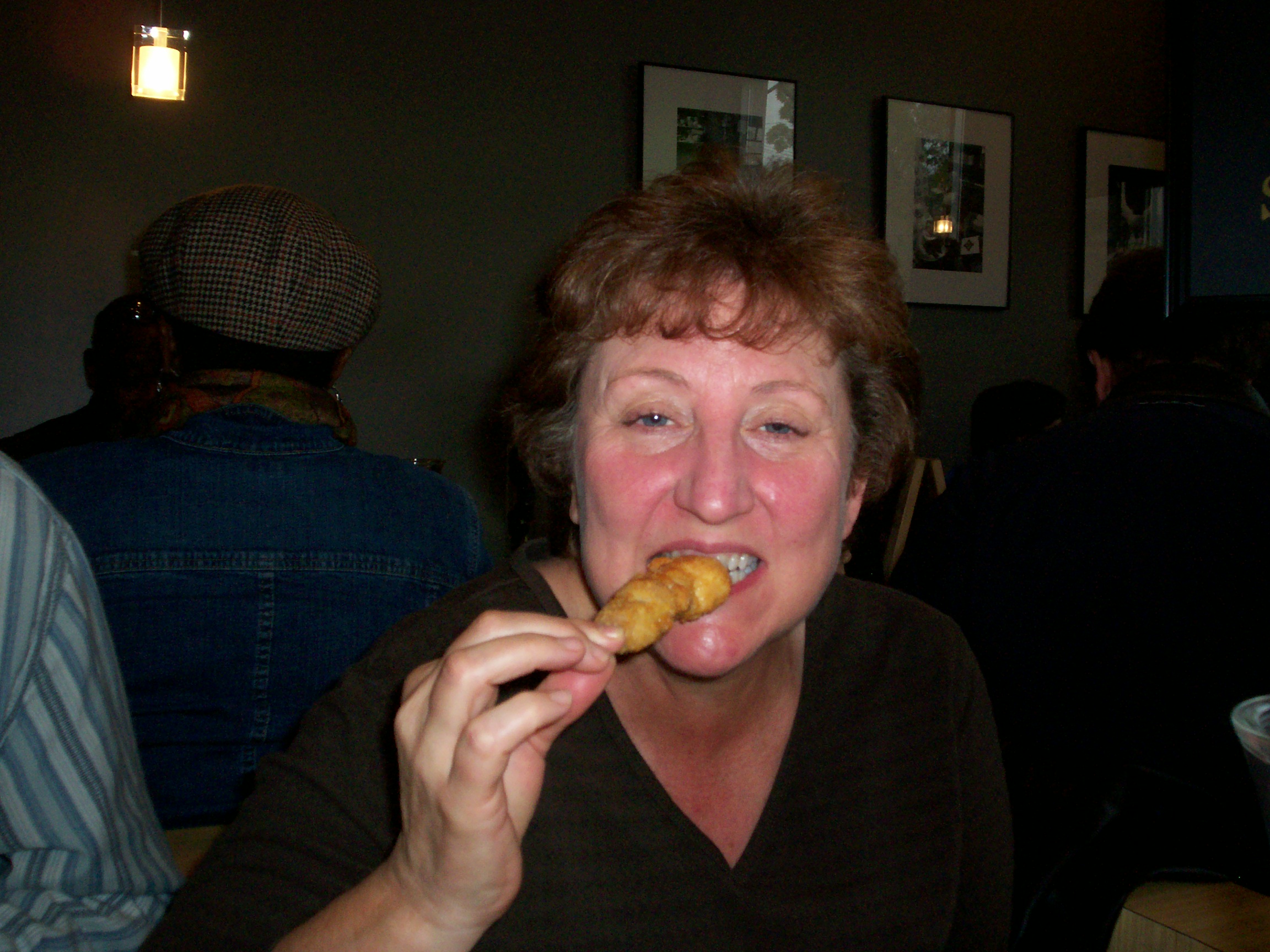 We all exchanged a bit of our main course with each other, and all considered it not worth arguing who had the best; as Phil would say, they were all, in a word, Awesome.
PB: AWESOME!!
KG: I do think my yakiniku had a slight advantage over the shoga-yaki, in that it was very moist to begin with whereas the shoga-yaki is more dry, but both had spectacular flavor that belied the thin strips of meat it hid on. The kushi-katsu skewers were delightful, with a tangy sweet and sour sauce to dip them in. All three were summarily devoured.
PB: Umm, yeah ? what Kale said. The meat was fantastic whether it was marinated and grilled, or seasoned and fried. As for the dipping sauces, well, see my comments earlier in this review. There are entire cookbooks devoted to the art of creating a great sauce (e.g. ?Sauces? by James Peterson -- a modern classic), and the Asians have taken this to a level that few Western cuisines can match.
KG: The sides were just as good. The Japanese potato salad is really more of a mashed potato with a few lumps, but it has been blended with some interesting flavors, and a few surprises lurk inside, like paper-thin slices of cucumber and little chunks of apple for texture and sweetness. It?s served cold and delicious; I could imagine taking this on a few picnics to discourage some of the more mundane potato salads I?ve encountered. The salad was light and refreshing, just enough tang in the sauce to tantalize and cleanse the palate between flavors without clashing with anything on the plate (in the box?). The rice was perfect, steamed to stickiness so it was easy to eat with chopsticks (the Japanese plastic fork), and the eggplant pickles had just a bit of spring and chew in their wonderfully bitter flavor.
PB: It took awhile for us to figure out the composition of the potato salad, but we all agreed that it was yummy. Our conversation often goes like this: ?I?m not sure what it is, but it sure is good!? As for sauce/dressing on the salad, here we go again ? it?s all about balance of flavors. Another surprise was the eggplant pickles ? now I have a second way to enjoy this vegetable (see the Cossetta?s review for the first one). I really enjoy finding tasty variations on seemingly ordinary things such as side dishes; this is what keeps me coming back to places like Obento-ya. I give this place a full pastic fork (even though they don?t have any).
KG: Obento-ya is a little off the beaten path, but then that?s where all the best places lurk. Take some time out to track down this treat, and be sure to come early, as the place filled up fast once we got there. Four chopsticks here, folks.
No feedback yet
Comment feed for this post