Gyropolis
Kale G: I'm a big fan of gyros; there's something about that mix of lamb and beef slathered with tzatziki that I just love. Gyropolis is a local family run shop spun off of Deli Supreme (a little eatery at 98th and Lyndale) that seems to have been set up with an eye to starting up a chain.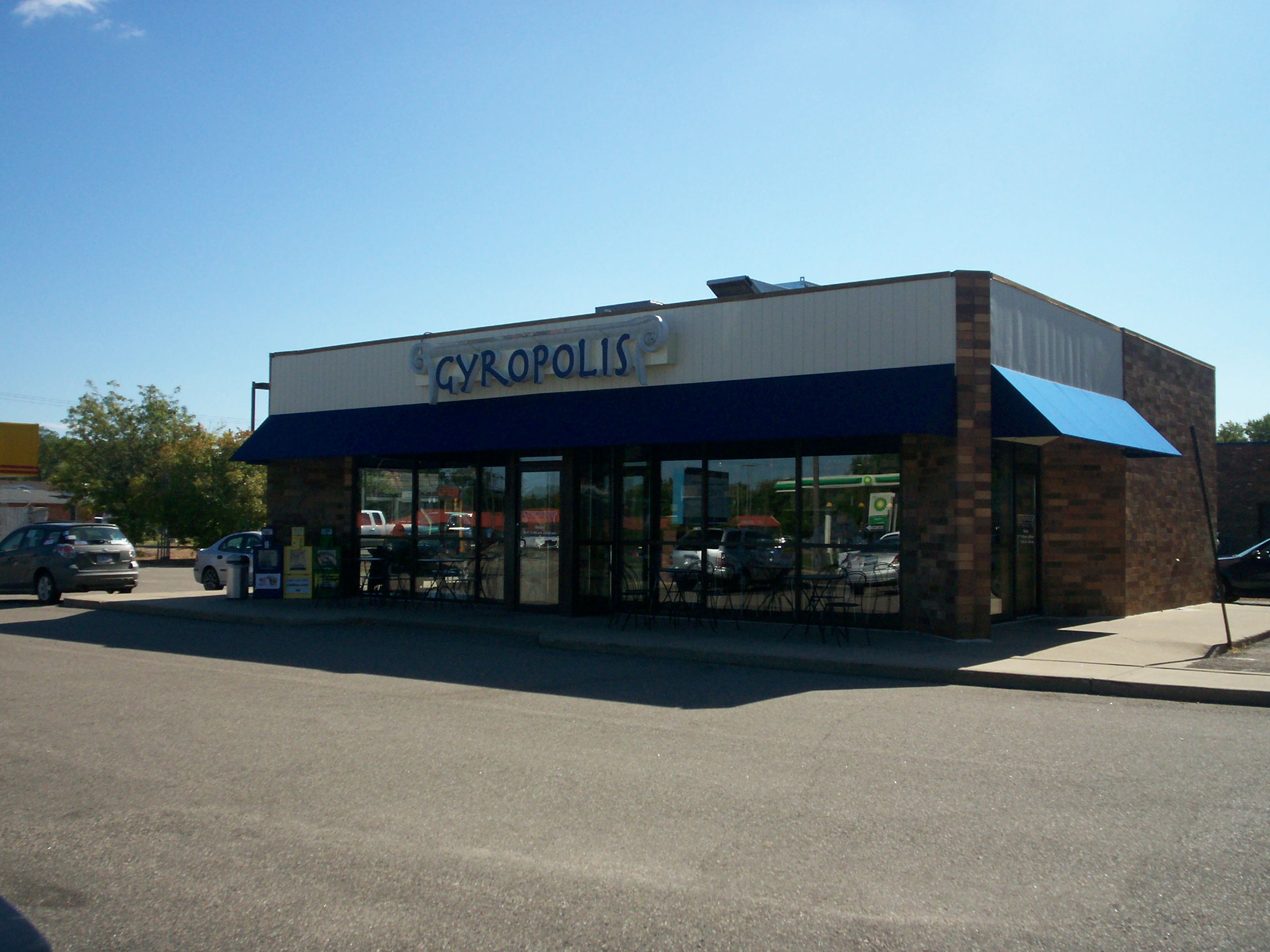 Phil B: What on earth is tzatziki? Anyhow, let's set the record straight before we go any further – Gyropolis is definitely NOT a hole-in-the-wall. Seating can be scarce at times, but this is a testament to the popularity of the place.
KG: It started innocently enough; Phil said he wanted gyros, and I said I knew just the place. I started getting gyros from this family out at the Uptown Art Fair and when I found them at the Deli Supreme, where I could get the full range of their gyros, it was love.
PB: My first experience with gyros was back in 1980 as a college student. One of my peers was a 2nd generation Greek-American. One day we had the munchies after a dorm party we were hungry after Bible study, so he asked if I wanted to try some gyros for lunch. We had only $5 between us but he said that would be enough -- hey, that was cheap even back then! We went to a little place in a strip mall (i.e. a hole-in-the-wall) called the 'Greek House'. To this day, I remember how wonderful the food smelled when we walked in. My friend briefly conversed in Greek with the owner, who then walked over to this huge wheel of meat slowly turning on a vertical rotisserie. He picked up a machete-sized knife, sliced a pile of paper-thin, perfectly roasted slices from the wheel, and wrapped up the slices in a couple of warm pitas with some fresh onions, tomatoes, and yogurt sauce. As Kale would say, it was love at first bite. We even got some change back from the $5.
KG: To start with, one of the techniques they use at Gyropolis that sets them apart from many gyro places is once the meat is sliced off the rotissere they then fry the meat briefly to bring out all the flavors. Additionally, the tzatziki they have is sublime; a perfect blend of yogurt, cucumber and dill that delights. Finally, they have my favorite topping for gyros: feta.
PB: So that's tzatziki? I thought it was called 'yogurt sauce'.
KG: Nope, tzatziki. Phil ordered a spicy gyro, where they blend hot sauce into the tzatziki, a very popular choice at Gyropolis, at least among my co-workers. Myself, I ordered a build-your-own, with cucumbers, feta and sun-dried tomatoes. We had barely paused to get a photo of the mounded sandwiches before we fell on them like starving hyenas.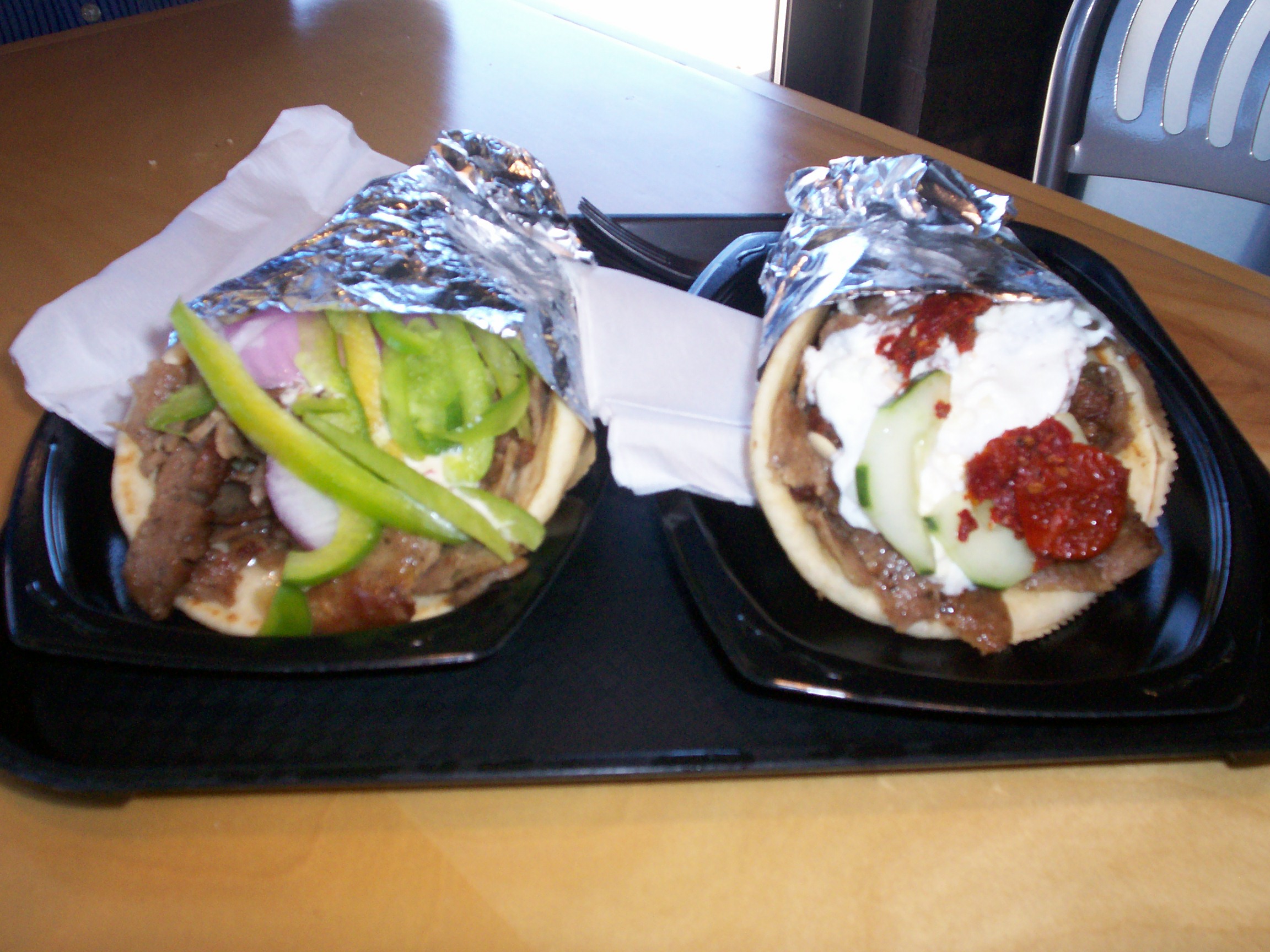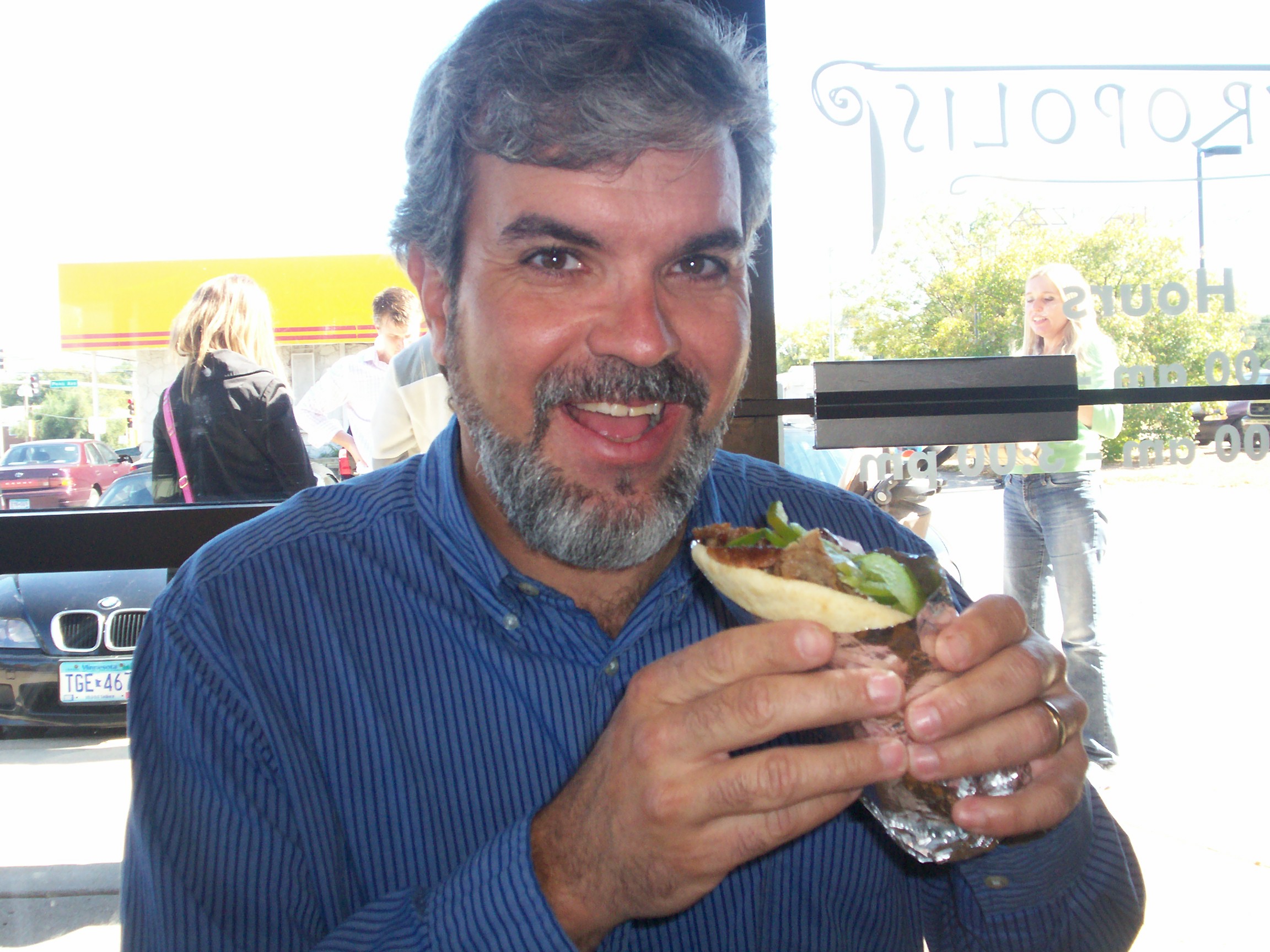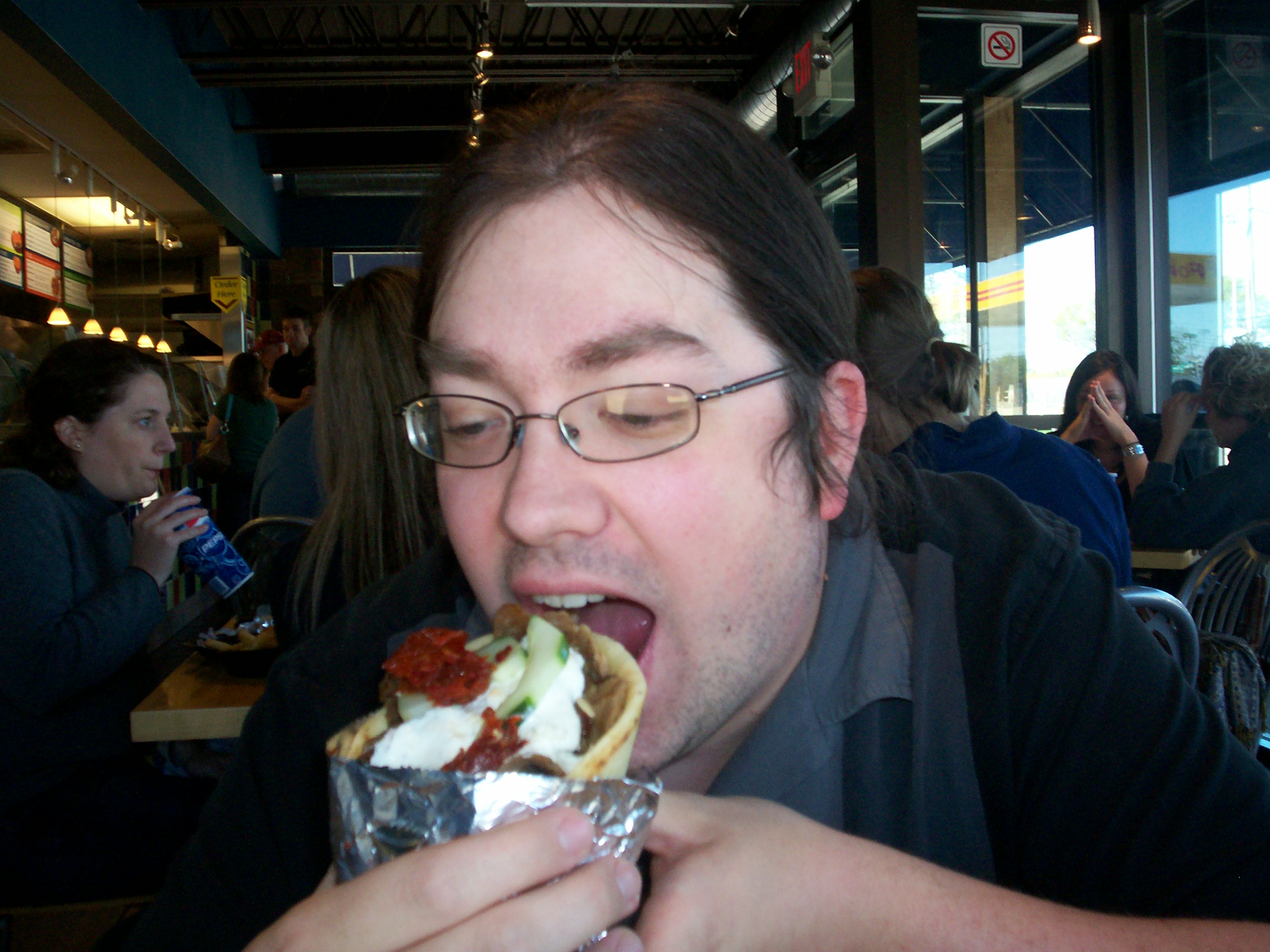 PB: Good thing our mamas weren't watching! Our table manners were somewhat lacking …
KG: We sat back, licking our fingers, when Phil suggested getting a round of baklava for the both of us. Normally I'm not a huge baklava fan; it's good, but it always seems heavy to me. Still, it was Phil's week to pay so...
PB: The gyros cost a little more now than they did in 1980, but are still a great value. And nowadays I have enough $$ left over for dessert, so life could be worse, eh?
KG: It was almost gone before I remembered to get a blurry photo of what little remained. The baklava at Gyropolis is light, sweet, with just the right amount of walnuts to give it the perfect texture. This is some of the best baklava I've ever had. Or as Phil put it in a word: Awesome!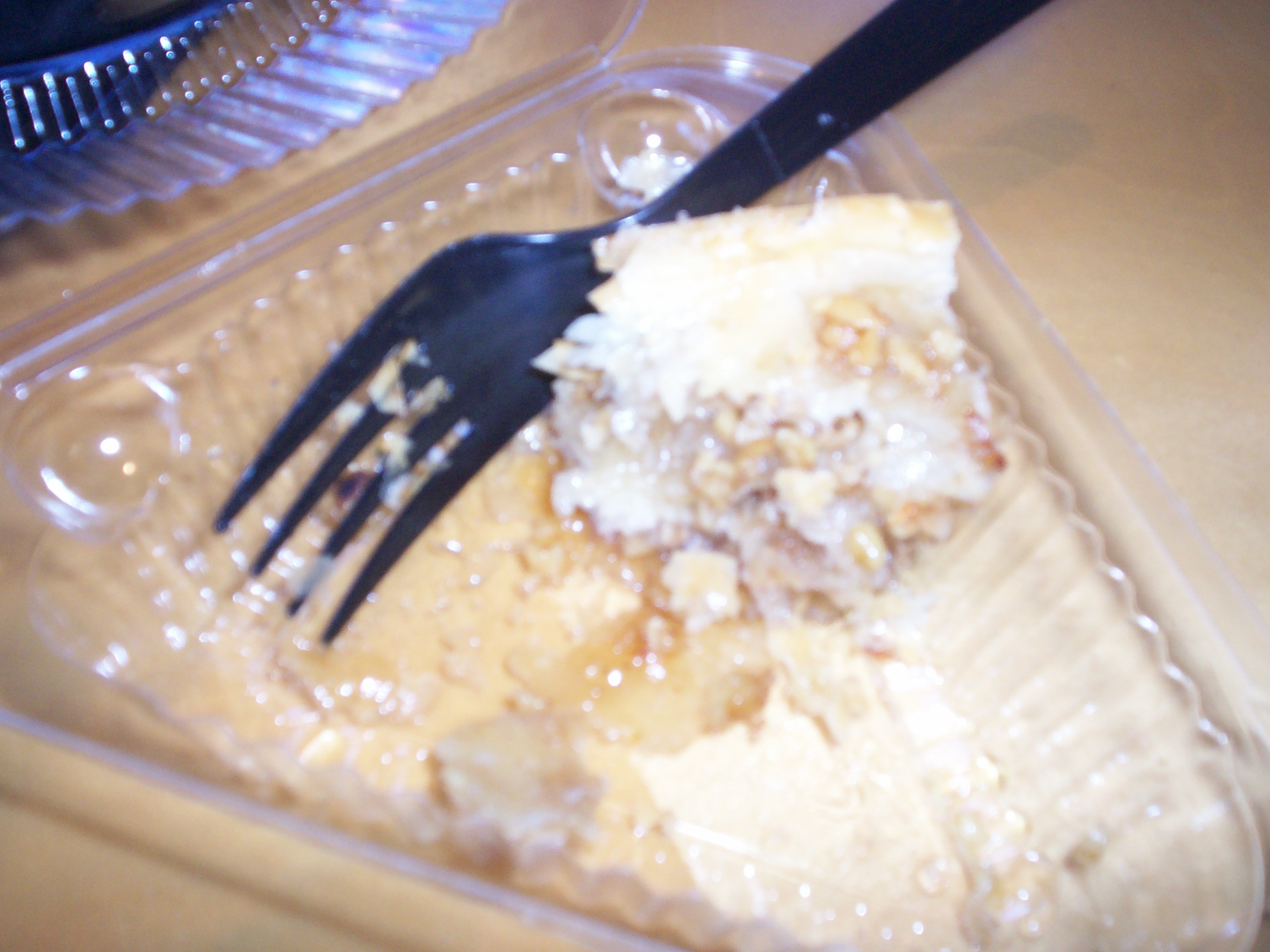 PB: AWESOME!
Best gyros and baklava I've had since my student days (maybe even better – it's hard to compare now vs. then). Definitely Four Tine dining!
KG: The menu at Gyropolis is limited, but it's a gyro place; why would you go for anything else? When it comes to gyros, there aren't any better in the Twin Cities that either I or Phil have found. Final verdict on Gyropolis is Four Tines, a full plastic fork. When you're craving that unique Greek treat, you can't go wrong here.
3 comments
Comment
from: Wombat Without Portfolio [Visitor]
Gyropolis is without question the best gyro place in the Twin Cities. I also recommend the shawirma at Jerusalem's, where they stuff the slices of gyrobeast inside the pita.
10/13/08 @ 15:47
Comment
from: Wombat Without Portfolio [Visitor]
I can't believe I went to the 5-8 and didn't order the Juicy Lucy. WTF was I thinking? :(
10/13/08 @ 15:48
I think that second one was for the other review - what did you get?
10/13/08 @ 20:35
Comment feed for this post